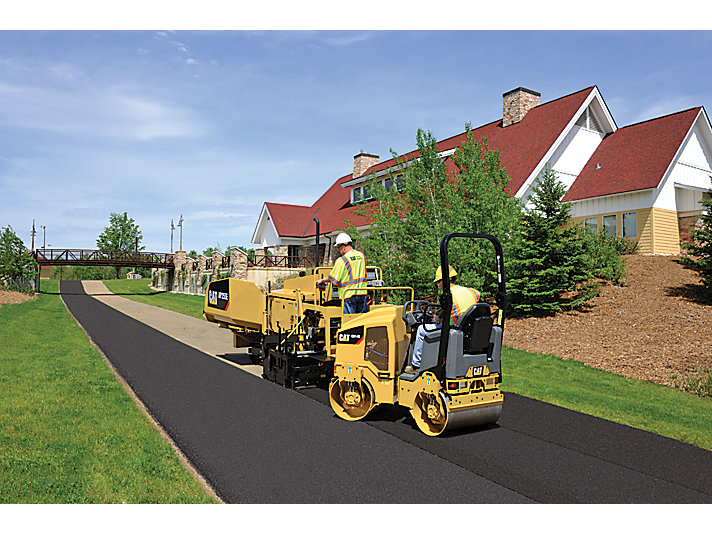 Overview – CAT CB14 Full Flush Roller
The Cat CB14 Full Flush Roller provides the reliability and versatility that you've come to expect from Caterpillar site machinery and tools.
Comfort and Control
Operators appreciate added comfort, and paving contractors increasingly realize its value, too. Comfortable operators stay fresh and alert throughout their shifts, providing both safety and productivity benefits.
Smooth, Efficient Powertrain
The CB14B delivers plenty of power to keep the roller productive, even on steep grades. The engine is quiet thanks in part to the belt-driven, overhead camshaft and low turbulence. The large cooling system provides efficient performance in normal and high ambient temperatures.
Maneuverability and Transport
The size of the CB14B helps it go where other rollers can't. The CB14B's minimal side clearance enables optimal maneuverability next to curbs and obstacles, while the low center of gravity provides stability when operating in open areas or tight locations.
Perfectly Matched
The CB14B is designed and built to provide options that precisely match your applications. The vibratory frequency and amplitude are optimized to provide a smooth mat in a variety of jobsite conditions.
Consistent Water Spray Coverage
Preventing asphalt pickup is key to keeping a fresh mat in place. The water spray system on the CB14B Utility Roller includes many features that ensure quality.
OVERVIEW
The CB14 Full Flush incorporates a 900 mm (35″) offset front drum. The drum is offset on the right side providing flush compaction near walls, curbs, and other vertical obstructions.
ENGINE
| | |
| --- | --- |
| Gross Power | 22.5 hp |
| Engine Model | Kohler KDW1003 |
WEIGHTS
| | |
| --- | --- |
| Operating Weight | 3351.0 lb |
| Maximum Weight at Front Drum | 1676.0 lb |
| Maximum Weight at Rear Drum | 1675.0 lb |
OPERATING SPECIFICATIONS
| | |
| --- | --- |
| Standard Compaction Width | 39.0 in |
| Curb Clearance | 16.0 in |
| Ground Clearance | 9.0 in |
| Static Linear Load | 42.9 lb/in |
| Travel Speed – Maximum | 6.0 mph |