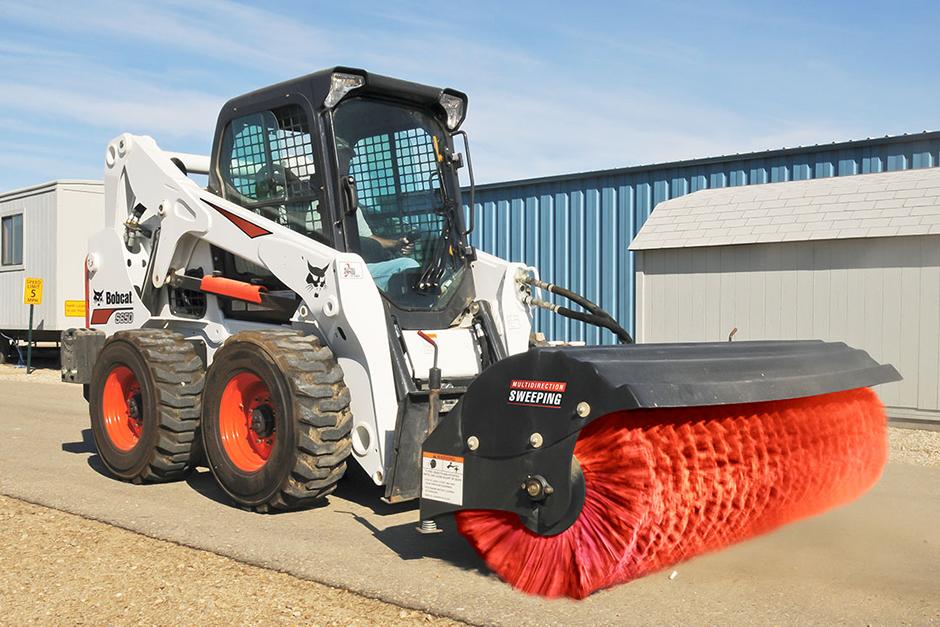 Attachments, Parts & Spares For Sale
About the Bobcat Angle Broom for Compact Loaders
Bobcat Angle Broom – Sweep a clean path easily and efficiently with the hydraulically driven angle broom attachment. Quick clean-up jobs can be completed without damaging pavement surfaces.
The broom bristles have a waved design, delivering improved cleaning ability. These bristles create a cleaner path and can sweep more snow or debris in one pass. The angle broom attachment is compact, maneuverable, and easy to operate. Surfaces of all sizes can be cleaned effortlessly and efficiently saving valuable time.
Reverse bristle rotation is available on the 68" and 84" angle brooms making it more efficient to sweep leaves, snow, and debris away from corners, curbs, buildings, and obstacles.  Slow operating speeds prevent damaging the cab or machine while the broom is operating in reverse rotation. Standard orange heavy duty bristles improve bristle life and provide better visibility for the operator.
The reversible angle broom is available for all on M-series and R-series compact track loaders and skid-steers, as well as Bobcat Toolcats with the 7 Pin Attachment Control Kit.
Top Tasks
Clear away dirt, dried mud, light snow and other debris

Effective on driveways, sidewalks, parking lots, loading docks, warehouses and more
How It Works
The angle broom is driven by a hydraulic motor that rotates the broom at a continuous speed sweeping any dirt, snow, or debris away from the machine.  The broom can also be angled in either direction to a maximum angle of 25 allowing the operator to sweep material to the side with ease.  Reverse the rotation of the broom to easily sweep tough to access spots.