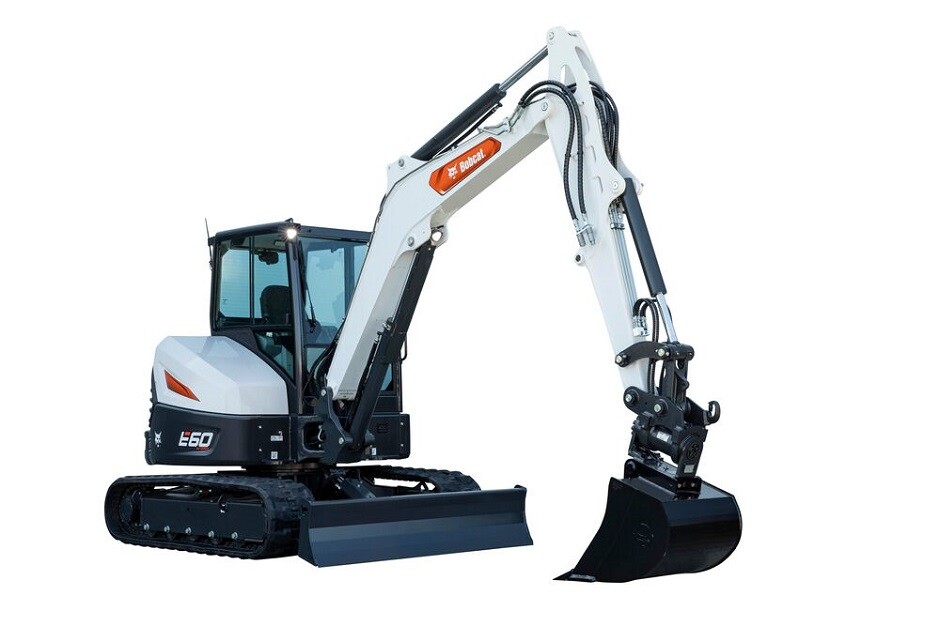 Bobcat E60 Compact Excavator
Take your productivity to new heights – and lengths – with the versatile E60 compact excavator. This 6-ton mini excavator delivers maximum hydraulic and engine horsepower to tackle aggressive digs and take on more challenging lifts — and goes even further with the extendable arm option.
Downtime is never an option. Count on more time in the cab and less time in the shop with the redesigned Bobcat® engine. The non-DPF Tier 4 engine reduces and simplifies routine maintenance, is easier to service, has an improved cooling system (protecting the life of engine components) and operates more quietly.
ZERO HOUSE SWING – E50z, E55z
The Bobcat Zero House Swing (ZHS) concept enhances Zero Tail Swing (ZTS) functionality, allowing operators to work in extreme proximity to walls. The design protects the front upper-structure corners turning within the swing circle and eliminates the protrusion of the boom swing cylinder during parallel digging.
RIGHT TOOL FOR THE JOB
Professionals know the value of matching their equipment to the work at hand. Bobcat's line-up includes a range of options to meet the needs of every job. While conventional models feature low overhang over the track profile, Zero House Swing models eliminate overhang altogether
ALL-DAY COMFORT
Enjoy ample space and leg room inside the cab, ergonomic interior design, easy access to critical controls and optional comfort features such as a heated seat with high back and head rest.
MAXIMUM POWER AND COMFORT
The flagship E60 offers the highest performance, stability and comfort, with the biggest cab in its category and a powerful 55 hp engine.