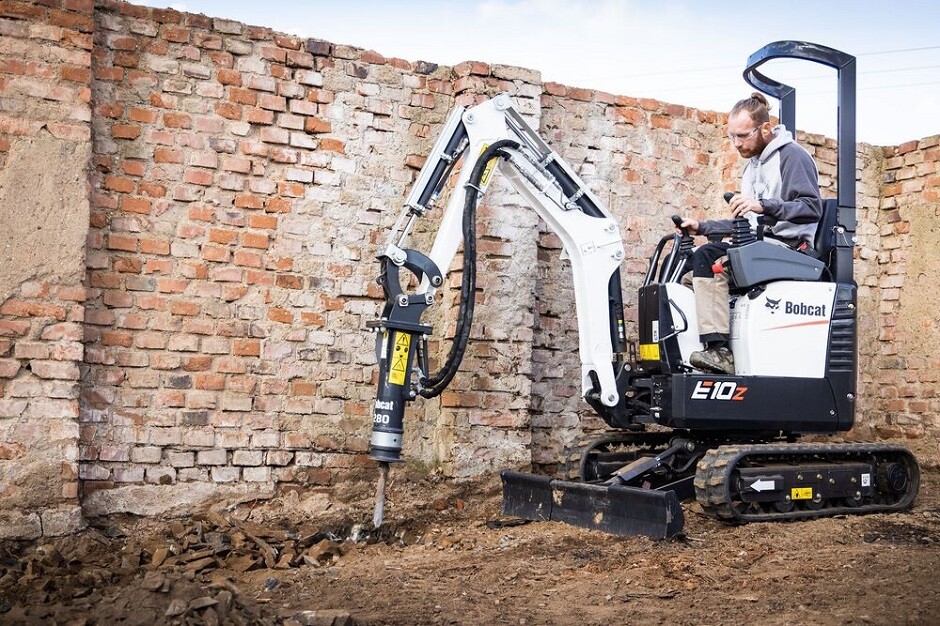 Bobcat E10z Compact Excavator
With a retracted track width of only 71 cm, the Bobcat® E10z compact excavator (mini excavator) can access difficult and cramped jobsites where exhausting manual labour is your only other option. This model navigates through narrower openings and can operate in more confined areas than other excavators. The zero tail swing gives you the greatest flexibility to pivot and deposit soil while offering the most protection against accidental contact with surrounding property.
Performance
See how the strongest digging excavators can improve your work performance.
More Predictable Controls: Bobcat compact excavators give you perfect control of the boom, arm and bucket, even in the most challenging work environments. Having confidence in this control and your precise movements enables you to complete the job using your machine, instead of doing it with manual labour.
Retractable Undercarriage: You can work in confined areas and squeeze through the tightest workspaces by retracting the tracks on Bobcat® E08, E10, E17, E19 and E20 compact excavators.
Two Speed Travel: To raise your productivity, choose between two travel speeds to increase your speed around your jobsite.
Comfort
More standard comfort features make tackling hard work easier.
Including:
Ergonomic Control Systems that help you control attachments with precision and flexibility, without feeling tired. 
Hydraulic joystick controls to ensure smooth, fluid operation, helping you operate at maximum efficiency.
A unique canopy that gives operators better visibility.
Adjustable joystick controls that allow you to choose the position of your joysticks. Outward for comfort or inward for passing through narrow openings.
Also featuring soft-grip pilot grips that provide the operator with effortless control of the boom and arm work group.
Serviceability
Easy maintenance routines give you more reliable performance and peace of mind.
With all Bobcat compact excavators (including the E10z), you'll find it very easy to make maintenance part of your routine. Using Bobcat's simple industry leading service access checkpoints, you can carry out preventive maintenance very fast. Use your shop time to finish the job instead of trying to gain access to checkpoints – you'll complete essential maintenance as scheduled and reduce your operating costs.
Standard Features
710 mm dozer blade / 1100 mm extended

180 mm rubber track

Auxiliary hydraulics on boom with quick couplers

Control console locks

Horn

Electronically activated track expansion

Hydraulically expandable undercarriage from 710 to 1100 mm

Retractable seat belt

Seat

Two-speed travel

TOPS canopy (1)

Vandalism protection

Water separator

Work light

Warranty: 24 months, 2000 hours (whichever occurs first)