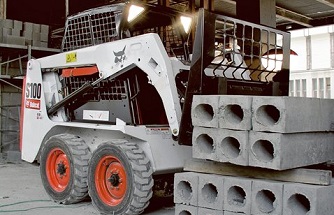 Product Information
The S100 is the ideal size to work quickly and efficiently on limited-access jobsites thanks to its radius lift pattern and its short wheel base.
More than 20 attachments turn this small skid-steer loader into a problem-solving model. The Bob-TachTM mounting system makes changing attachments quick and easy.
The S100 is also easy to transport, giving you the benefit of handling multiple tasks at multiple sites in a single day.
Engine
MAKE: Kubota
MODEL: V1505
GROSS POWER: 33.5 hp/25 kw
POWER MEASURED: 3000 rpm
NUMBER OF CYLINDERS: 4
Operational
HEIGHT: 1878mm (6ft 2in)
WIDTH: 1267mm (4ft 2in)
OP. WEIGHT: 1818KG
LIFT CAPACITY: 457KG