Bobcat Remote Control Systems
Visibility & Communication
The ability to control the machine remotely outside of the cab provides a completely new experience for the operator. With direct visibility of your task, operation is easy and fun with plenty of versatility thanks to our wide range of attachments. Remote Control also provides the priceless ability to talk face to face with co-workers while verbally or non-verbally interacting with your surroundings.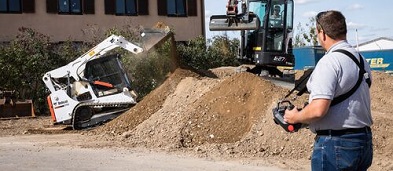 Comfort & Productivity
The Remote Control distances the operator from dust, noise, vibrations or dangerous job sites that require special safety precautions. Work can be done faster with higher precision, and in some applications, reduce the amount of work force needed on the job site.
Plug & Play
This easily portable, industrial radio remote control solution can be mounted and unmounted on any machine within minutes.
Applications
Construction, Demolition
In demolition environments with poor air quality and distracting noise, the remote control system gives you the ability to do your work from a distance where you are free from dirt, dust and noise. For construction work that requires two people, this solution can cut labor cost, as one operator can get the job done having a visual on the attachment from outside of the cabin.
Shipyards
Distancing the operator from the carrier in shipyards with limited space, potential chemicals and other airborne pollutants has great health benefits. The job can be done easier, while having a better visual to manage tight spaces in containers.
Waste and Recycling
With the remote-control solution, anyone can handle dangerous or toxic materials from a safe distance, while minimizing the risk of exposure.
Other Applications
With the remote-control solution, you can work on all the hazard applications (like Mining Application for Army) but also if you need more visibility and touch the job in comfort zone (Road Applications)

LOOKING FOR A REMOTE CONTROL SYSTEM FOR BOBCAT EQUIPMENT?
Call us today to discuss or contact us via our form.

 Main Product Features
Dedicated password for every remote control kit
Two way communication – 3.5 inch transflective color backlit LCD display communicating all the important information about the carrier (fuel and oil status, warnings etc.)
Speed management for easier operation in certain applications (trenching, tilling, etc.)
Transmitter equipped with an E-stop button and tilt-control for maximum safety
Supplied with two exchangeable batteries (Long 20 hours battery life)
The Bobcat Remote Control System is Compatible with the…
| | | | |
| --- | --- | --- | --- |
| T110 | T870/ | S550/H | S770/H |
| T450 | S100 | S570/H | S850/H |
| T590/H | S450 | S590/H | A770/H |
| T650/H | S510 | S630/H | |
| T770/H | S530/H | S650/H | |