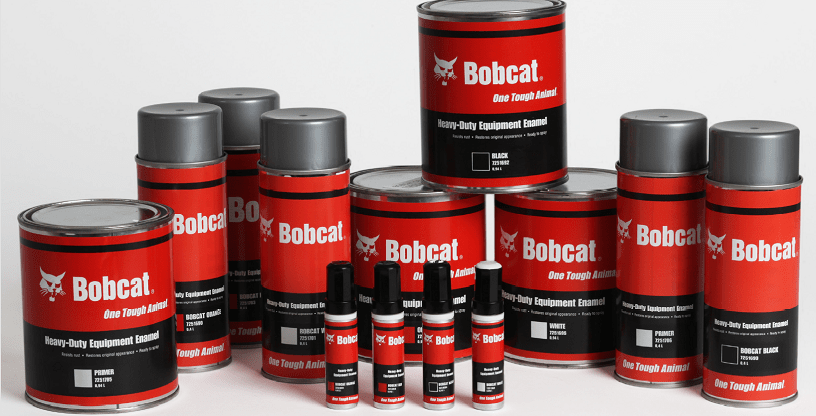 Rubber Paints
Colour match the paint on your Bobcat machine for equipment that looks well-maintained with genuine Bobcat white, charcoal, and orange paint. Make your machine look new again with a quick and easy paint job and fresh decals.
Cans, Aerosol Spray & Touch-Up Bottles
Bobcat enamel paints are available in 0.94 L cans and 400 ml aerosol spray cans. Red is only available in spray and touch-up bottles. Bobcat paint is manufactured under the rigid quality control standards to meet Bobcat specifications for colour match and quality.
Bobcat paint quarts are spray ready, additional thinning is usually not necessary. Aerosol cans feature a unique fan spray tip that delivers a vertical and oval shaped spray pattern. The fan spray gives better coverage and delivers a more uniform spray that allows the can to be held closer to the work surface for better control and overall spray reduction.
Bobcat acrylic enamel paint coatings will dry dust free in 10-15 minutes, dry to handle in 30-45 minutes, and dry complete in about 24 hours.
Touch-Up paint available in handy 12 ml bottles
There are many times when just a little dab of paint will take care of scratches on Bobcat® equipment.
Instead of opening a new can of spray touch-up paint for a small job, your Service Department and/or customers can now purchase a miniature 12 ml bottle of paint in four different Bobcat product colours.
The paint – complete with brush applicator – is available in red, black, white and orange. It is the same paint as offered in cans and sprays through Bobcat Aftermarket parts.
Bobcat Orange

Part #

Packing

Content

Buy Multiple Of

7251689

Can (x6)

940 ml

6

7251690

Spray (x6)

400 ml

6

7251691

Touch-up bottle

12 ml

1
Bobcat Black

Part #

Packing

Content

Buy Multiple Of

7251692

Can (x6)

940 ml

6

7251693

Spray (x6)

400 ml

6

7251694

Touch-up bottle

12 ml

1
Bobcat White

Part #

Packing

Content

Buy Multiple Of

7251695

Can (x6)

940 ml

6

7251701

Spray (x6)

400 ml

6

7251702

Touch-up bottle

12 ml

1
Bobcat Red

Part #

Packing

Content

Buy Multiple Of

7251703

Spray (x6)

400 ml

6

7251704

Touch-up bottle

12 ml

1
– Buy Bobcat Paint, Aerosol Sprays & Touch-Up Bottles –