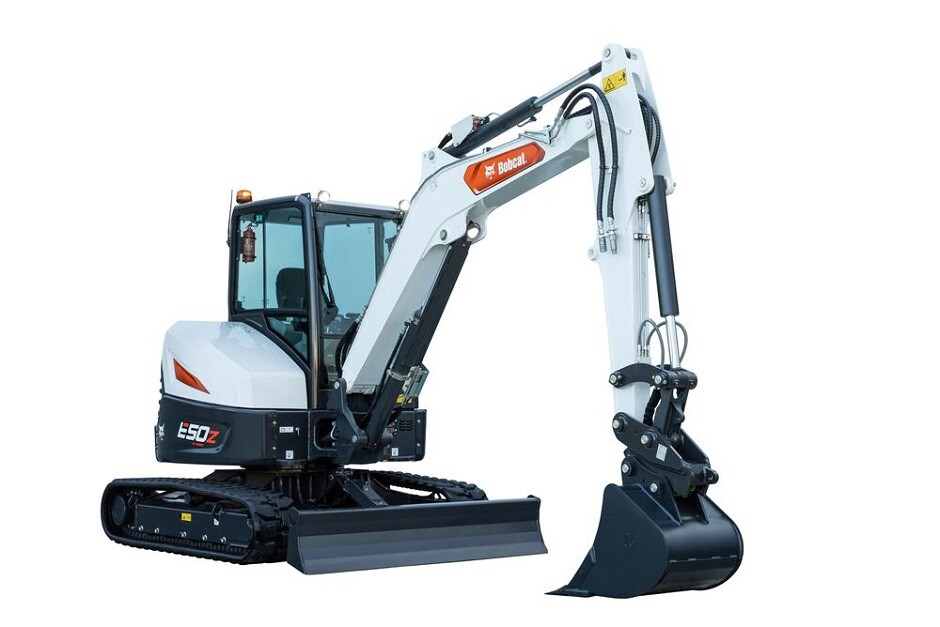 Bobcat E50z R2-Series Compact Excavator
The new Bobcat® E50z is a new generation model in the 5 tonne compact excavator class, offering the benefits of Zero House Swing design. The E50z model is an easy-to-use, robust machine, introducing the next level of operator comfort and features required by demanding owner-operators. Increased weight has been optimized to maximize stability, which enables us to offer the long arm as standard. Thanks to the Bobcat platform design approach, the E50z benefits from the majority of features found on mainstream models.
ZERO HOUSE SWING – E50z, E55z
The Bobcat Zero House Swing (ZHS) concept enhances Zero Tail Swing (ZTS) functionality, allowing operators to work in extreme proximity to walls. The design protects the front upper-structure corners turning within the swing circle and eliminates the protrusion of the boom swing cylinder during parallel digging.
RIGHT TOOL FOR THE JOB
Professionals know the value of matching their equipment to the work at hand. Bobcat's line-up includes a range of options to meet the needs of every job. While conventional models feature low overhang over the track profile, Zero House Swing models eliminate overhang altogether
ALL-DAY COMFORT
Enjoy ample space and leg room inside the cab, ergonomic interior design, easy access to critical controls and optional comfort features such as a heated seat with high back and head rest.
COMPACT YET POWERFUL
This compact, light and affordable compact excavator packs a surprising punch with plenty of power and Zero House Swing