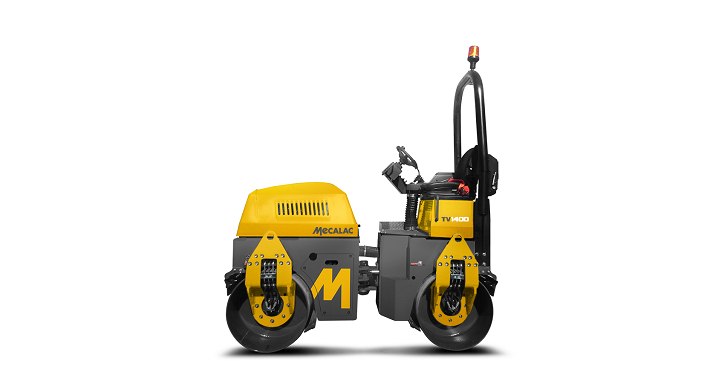 Product Overview – Mecalac / Terex TV1400
Arguably some of the toughest in the world, the Mecalac (formerly Terex) range of compact Tandem Rollers are designed for the rigorous demands of the Plant Hire industry. Meeting world-wide compaction standards for asphalt and granular layers, these machines not only provide 'rental toughness' they are operator friendly, high productivity rollers.
With the 1400mm wide drum high compaction productivity is achieved via the powerful, well proven mass exciter system to deliver high dynamic force. Optimised balance between frequency and amplitude provides ultimate versatility in meeting all kinds of job site conditions. The hydrostatic drive power management provides excellent hill climbing ability and when combined with the superb articulation delivering a tight turning circle, these are highly manoeuvrable machines.
With more than 60 years' experience in both design and production, we continue to innovate, boasting a comprehensive portfolio of state-of-the-art equipment specifically developed to revolutionise operations for construction professionals worldwide – saving time, money and labour.
Built with innovation in mind, Mecalac compaction rollers are designed to withstand the most demanding tasks. Easy to use controls, intuitive layout and with vibration reduction technology enhances operator comfort and productivity.
Ranging from the versatile MBR71 pedestrian roller to the productive TV1400 tandem roller (and everything in-between), there's the right machine for every application.
Features – Tandem Vibrating Rollers
Rugged design to withstand plant hire industry conditions
Water-cooled diesel engines provide excellent reliability, low noise and
low emissions
High-static linear loads reduce the number of passes
Two frequencies provide enhanced versatility
Optional pressure fed water sprinkler provides greater flow regulation for improved cleaning capability
Features
Total operating weight (kg)

4390

 

Overall width (mm)

1470

 

Overall Length (mm)

2375

 

Turning circle (mm)

7790

 

Travel speed (km/h)

10

 

Engine power (kW/hp)

32.4/43.4

 

Drum width (mm)

1400

 

Centrifugal force (daN)

45/61

 

Frequency (hz)

48/56

 

Static linear Load (kg/cm)

15,68

 

Amplitude (mm)

0,5