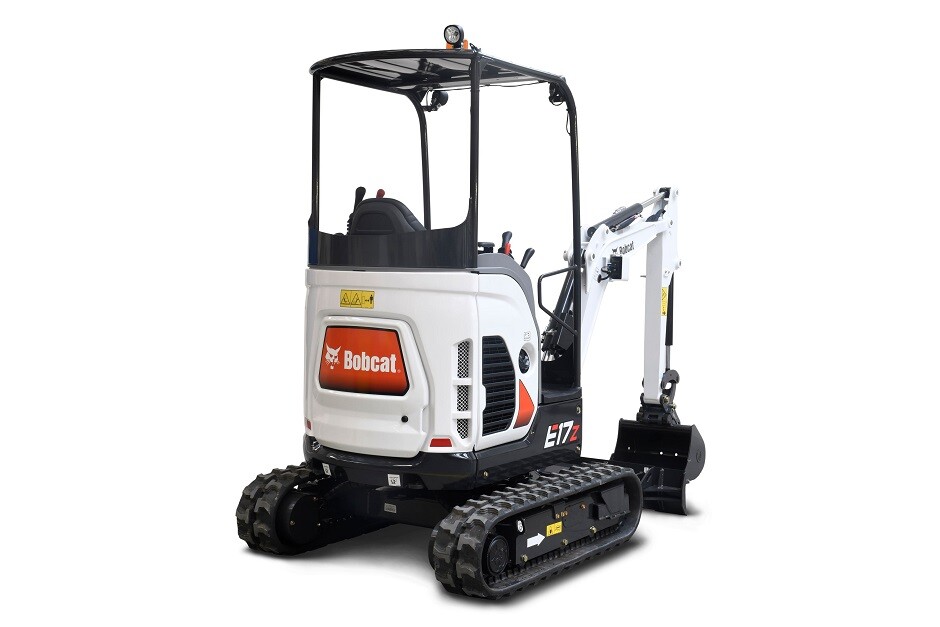 Bobcat E17z Compact Excavator
The Bobat E17z compact excavator (mini excavator) provides an unmatched combination of features for a machine of this size, from ZTS (Zero Tail Swing) and the close to 1.6 tonnne; its impressive digging forces and working range; the smoothness of workgroup functions; the fast hydraulic performance in terms of low cycle times and its relaibility, durability and easy service access. The ZHS functionality on the E17z provides the peace-of-mind of 320° of free rotation when working close to walls and other obstruction, without sacrificing on operator comfort or performance.
Key features:
Robust and reliable excavator

Excellent performance – both speed and force

Smooth operation for precise job

Unparalleled working range

Best-in-class stability and visibility

Unrivalled operator comfort and access to cab

Advanced electronic control functions with new control panel

Integrated upper-structure tie-down points
Excavators can be upgraded to any customer requirement with the following options:
Long dipper stick for superior digging depth and reach

Long blade for extra stability and easy dustpanability

Keyless ignition

Motion alarm

Seat options, all with retractable seat belt

Additional lights including LEDs and mirrors

Object handling certified

Auxiliary line circuit extension on dipper stick

Klac and Lehnhoff couplers

Demolition package

Boom, arm, bucket cylinder covers

HD travel hoses guard
Comfort, Visibility & Safety
The E17 / E19 and E20z cabs offer an uncompromised operator environment – which, together with excellent
Smooth Performance & Compactness
Bobcat's unique E17 and E17z / E19 / E20z hydraulic systems make the best possible use of the engine power. Fast cycle times, combined with smooth control of class-leading breakout forces, provide maximum productivity. Boom and dipper stick cylinder cushioning – unique in their class – enhance overall smoothness.
Lift more, lift higher
The superior dumping height makes loading trucks easy, while the reach at ground level means you don't need to reposition as often when digging.With enhanced stability and lifting capacity (E17, E17z), combined with best-in-class proportional auxiliary flow (E19, E20z), the Bobcat excavators offer you the highest versatility in operating a wide range of attachments.
Tough materials, tested design
Using highly durable materials makes the Bobcat excavators hard-wearing and robust. The design features are tested under extreme conditions – and the heavy steel gauge tailgate ensures extra durability and peace of mind while working