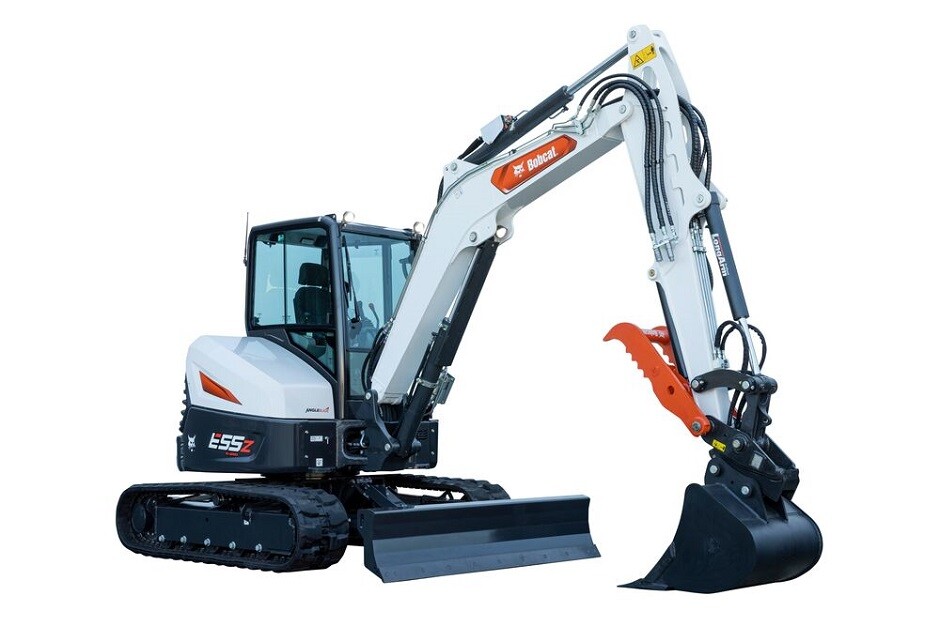 Bobcat E55z R2-Series Compact Excavator
The new Bobcat® E55z is a premium machine combining comfort and performance in a Zero House Swing package. Thanks to Bobcat's traditional high performance, coupled with excellent controllability and superior stability, this excavator feels like an extension of the operator's hands. The E55z is available with a long-arm option that maximizes dig depth and provides over 6 meters ground clearance and high dump clearance. Potential machine downtime is minimized thanks to a new undercarriage with dual flange rollers, interchangeable tracks, and auto track tensioning. An angle blade and clamp options are also available.
ZERO HOUSE SWING – E50z, E55z
The Bobcat Zero House Swing (ZHS) concept enhances Zero Tail Swing (ZTS) functionality, allowing operators to work in extreme proximity to walls. The design protects the front upper-structure corners turning within the swing circle and eliminates the protrusion of the boom swing cylinder during parallel digging.
RIGHT TOOL FOR THE JOB
Professionals know the value of matching their equipment to the work at hand. Bobcat's line-up includes a range of options to meet the needs of every job. While conventional models feature low overhang over the track profile, Zero House Swing models eliminate overhang altogether
ALL-DAY COMFORT
Enjoy ample space and leg room inside the cab, ergonomic interior design, easy access to critical controls and optional comfort features such as a heated seat with high back and head rest.
SUPERIOR PERFORMANCE
Bobcat's largest compact excavator with Zero House Swing represents a step up in stability and power, with an optional long arm for greater working range.