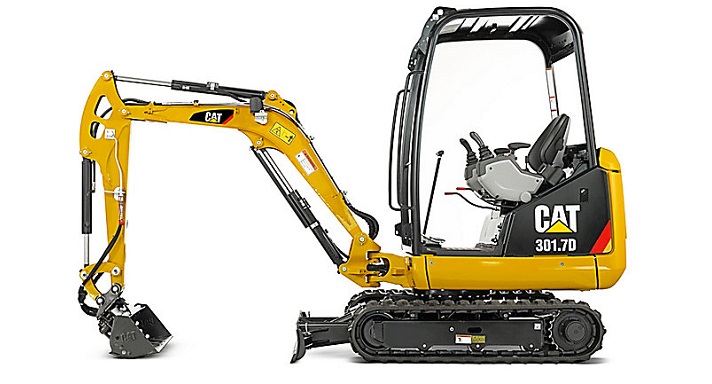 Overview – CAT 301.7D Mini Excavator
The CAT 3017.D Mini Excavator gives you a blend of power, control and stability to make your working day easier and more productive.
Stability
An extending undercarriage and fold out dozer blade allow the machine to be configured for optimum performance. Blade extensions are retained with the dozer making them easy to use and ensuring that they are not lost.
Dozer Float
Ground levelling and finishing applications are fast and easy with the dozer float function engaged making site clean-up much more efficient.
Long Dozer Option
The optional longer dozer blade enables improved 'dig to blade' characteristics to give easier on site clean up.
100% Pilot Controls
Delivers excellent machine control and lifetime 'as new' performance eliminating the need for linkage and cable maintenance, lowering owning and operating costs and resulting in less downtime.
Dig Force
The new 301.7D boasts high bucket and stick forces making it an impressive and productive excavator. The choice of two stick lengths allows the customer to configure his machine to deliver even higher stick forces or reach.
High Flexibility
Compact in size and with a transport weight under 2000 kg (4,500 lb), the 301.7D can be transported easily using a conventional trailer and pick up truck or transit van. The sturdy hoisting eyelets on the cab roof enable the easy and rapid relocation of the machine between sites.
Automatic Swing Lock
Safe transportation of the machine is aided by the Cat automatic swing lock which locks the machines upper body in place when the control console is raised or the engine is stopped.
Work Tools
A range of work tools are available including buckets, hammer and auger to take advantage of the machines versatility. All these tools are matched to the machine to optimize performance and deliver excellent value through productivity and long life.
Auxilary Hydraulics As Standard Fit
Machine is 'ready to work'. Hammer and two way lines complete with quick disconnect fittings as standard. Connections are located close to the tool to reduce hose lengths and any potential damage. Additional line options are available to further increase machine versatility. Stick and bucket cylinder hoses are protected by routing them through the boom.
Auxiliary Flow Control
Machines configured with proportional auxiliary hydraulics, include the ability to adjust the flow for even greater tool control. Especially useful with tools such as angling ditching buckets.
Cab Comfort
The Cat 301.7D gives the operator a large comfortable space in which to work. The ergonomic control layout, travel pedals and adjustable wrist resets are engineered to minimize operator fatigue and increase productivity. The layout is designed for easy cleaning, minimizing downtime between jobs. There is a choice of cab with heater or canopy available. The canopy offering two sided access for even greater on site versatility.
Split Front Window
The lower front window section slides into the upper section frame. Both sections are then raised and stored in the roof using a gas assisted mechanism. This allows the operator to position in front window to suit their visibility and ventilation requirements with easy storage.
Powerful Engine
The Cat 301.7D is fitted with a 17.9 kW (24.3 hp) gross power engine that is installed at a much lower rated 13.2 kW (17.7 hp). This is designed to reduce engine wear, give cooler running temperatures, with longer life and lower owner and operating costs.
OVERVIEW
The Cat® 301.7D gives you a blend of power, control and stability to make your working day easier and more productive.
ENGINE
| | |
| --- | --- |
| Engine Model | Yanmar 3TNV76 |
| Net Power | 13.2 kW |
| Displacement | 1116.0 cm3 |
| Gross Power (ISO 14396) | 17.9 kW |
| Rated Net Power @ 2,200 rpm (ISO 9249) | 13.2 kW |
WEIGHTS
| | |
| --- | --- |
| Operating Weight | 1728.0 kg |
| Operating Weight with Cab | 1720.0 kg |
| Operating Weight with Cab and Extending Undercarriage | 1845.0 kg |
| Operating Weight with Canopy | 1610.0 kg |
| Operating Weight with Canopy and Extending Undercarriage | 1735.0 kg |