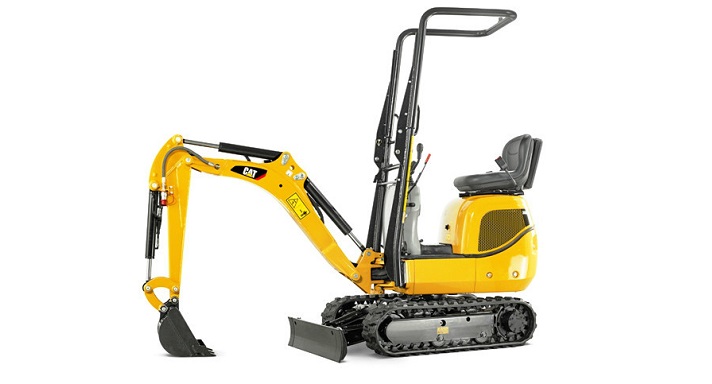 Overview – CAT 300.9D Mini Excavator
With an overall width of only 730 mm (2 ft 5 in) the Cat® 300.9D can easily drive through narrow passages and doors. Both indoor and outdoor jobs are now accessible with the under 1000 kg (2,205 lb) weight making easy trailer transportation between sites possible.
Extending Undercarriage and Blade
An extending undercarriage and fold out dozer blade allow the machine to be configured for excellent working stability and optimum performance. Easy retraction, controlled from the operator's seat, enables the machine to pass through narrow openings.
Foldable Safety Frame
A protective ROPS safety frame structure mounted on the front of the machine allows fitting of a guard for extra operator protection during hammer use. The structure folds down in a few seconds for easy machine transportation and storage.
Powerful Engine and Hydraulics
The 13.7 kW (18 hp) engine and perfectly matched hydraulics provide efficient, economical and reliable performance for the toughest of jobs. The matched cooling system is designed to accommodate working within confined areas and also the powerful Cat® hammer. Low noise and vibration levels deliver comfortable operation.
OPERATIONAL DATA
| | |
| --- | --- |
| Digging force – Bucket | 8.9 kN |
| Digging force – Stick | 4.5 kN |
| Operating weight with Safety frame | 985.0 kg |
| Operating weight without Safety frame | 935.0 kg |
ENGINE
| | |
| --- | --- |
| Engine Model | Yanmar 31NV70 |
| Net Power | 9.6 kW |
| Rated speed | 2100.0 RPM |
| Battery | 12 V, 20 Amp |
| Diesel tank volume | 10.0 L |
| Displacement | 854.0 cm3 |
| Flywheel output ISO | 9.6 kW |
| Gross Power (ISO 14396) | 13.7 kW |
| Make/type | Yanmar 31NV70 |
| Maximum engine output | 13.7 kW |
| Type | Water cooled model 3-cylinder diesel engine |