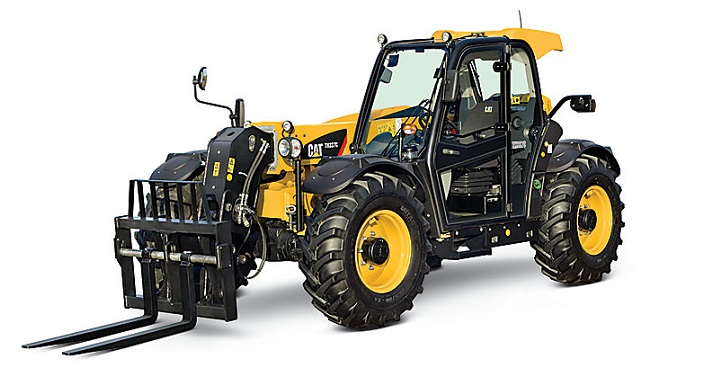 Overview – CAT TH337C Telehandler
The new Cat TH337C Telehandler incorporates a number of new features that increase performance, versatility, ease of operation, and serviceability. A choice of engines and transmissions allows customers to tailor these new models to their applications, and refinements in the implement and auxiliary hydraulic systems enhance performance and efficiency. New control features assist operators in precisely placing loads, as well as when traversing the rough terrain of job sites.
The fuel-efficient C4.4 engine is rated at either 74.5 kW (100 hp) or 93.1 kW (124 hp) and emits at levels equivalent to E.U. Stage IIIA emission standards.
Unmatched Versatility
For optimum utilization, the new C-Series models can handle a wide range of Cat work tools via the standard Integrated-Tool-Carrier coupler, and an optional hydraulic coupler allows the operator to change non-powered work tools from the comfort and safety of the cab. For powered tools, a selectable, continuous-flow auxiliary hydraulic system ensures productive performance.
The powerful implement hydraulic system for C-Series telehandlers features a new torque-regulated/load-sensing, variable-displacement axial-piston pump and a full-flow sharing valve that permits the operator to engage three hydraulic functions simultaneously.  For enhanced control, the system allows developing full hydraulic power at low engine speeds, facilitating the precise placement of heavy loads. The new hydraulic system provides enhanced value for the customer through increased production potential, fuel savings, longer component life and reduced sound levels.
Cat C-Series models are noted for their spacious, comfortable cabs that feature intuitive controls, including a single, low-effort, electro-hydraulic joystick that provides proportional and simultaneous boom functions and auxiliary functions, as well as directional and range controls for the new transmissions. Models with the 93.1 kW (124 hp) engine use the new 6F/3R transmission that provides travel speeds to 40 km/h (24.9 mph). Models with lower-power engines use the 4F/3R transmission with travel speeds to 30 km/h (18.6 mph).
New Transmissions
The new powershift transmission, which features an independent oil supply that helps maintain oil quality for optimum performance and reliability, uses a torque converter to ensure smooth, precise control of travel on the rough terrain of  job sites. Adding to the application flexibility of the new models are two tire options that allow configuring the machine for optimum job-site performance.
Adding to the excellent controllability of the new Cat telehandlers is the three-mode steering system, which permits the operator to precisely position the machine, promoting job-site efficiency and safety. Strategically placed hand-holds and steps are designed to provide safe, convenient cab entry and exit, and the operator is protected with an enclosed roll-over protective structure.
To reduce routine maintenance and overall operating costs, Cat C-Series telehandlers feature 500-hour engine-oil change intervals, maintenance-free drive shafts, and grouped grease fittings for the rear-axle cradle and compensating cylinder. All filters are easily accessible, and a service menu is available via the keypad and LCD monitor.
OVERVIEW
The C Series Telehandlers have a new engine to meet EU Stage IIIB (U.S. EPA Tier 4 Interim) emission standards and a new powershift transmission that ensures the operator can easily select the right ratio for the job in hand. Our tried and tested hydraulic system is easy to use, fast but controllable and designed to save fuel.
ENGINE
| | |
| --- | --- |
| Engine Model | Cat® C3.4B |
| Gross Power | 75.0 kW |
| Note | The Cat C3.4B meets the EU Stage IIIB and U.S. EPA Tier 4 Interim emission standards. |
WEIGHTS
| | |
| --- | --- |
| Operating Weight | 8030.0 kg |
OPERATING SPECIFICATIONS
| | |
| --- | --- |
| Rated Load Capacity | 3300.0 kg |
| Maximum Lift Height | 7300.0 mm |
| Maximum Forward Reach | 3763.0 mm |
| Maximum Lift Capacity | 3300.0 kg |
| Maximum Lift Height | 7.3 m |
| Turning Radius Over Forks | 4740.0 mm |
| Turning Radius Over Tires | 3750.0 mm |