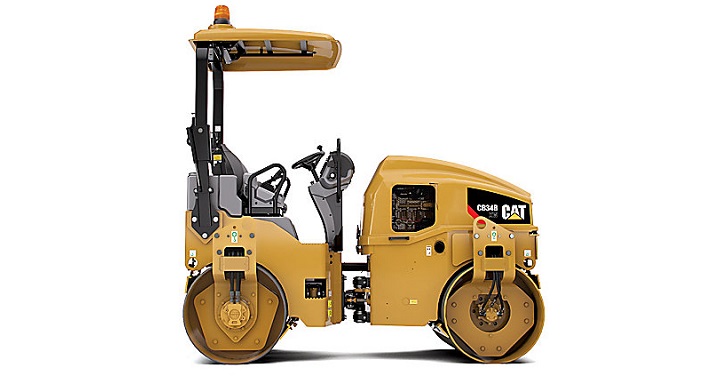 Overview – CAT CB34 XW Compact Utility Roller
The Cat CB34 XW Compact Utility Roller is equipped with 1.4 m (55″) extra wide drums and can cover greater mat widths in fewer overlapping passes.The wider drums and dual-frequency balanced with the higher amplitude setting makes this machine an excellent choice for thin asphalt lifts and larger job sites.
Simple Operation
The operating environment offers improved comfort and visibility. The narrow frame design and contoured engine hood provide good visibility to the drum edges and front of the machine. The intuitive control panel utilizes a backlit LCD display and sealed switches with bright LED lights for easy recognition in a variety of operating conditions.
Intuitive Controls
Intuitive, multi-function control panel with vandal protection enables good performance. Easy viewing LCD Display and Vibrant LED lights on the control panel simplify operation in both day and night operation. Integrated vandal cover protects value.
LCD Display
Multiple language options are available for crew diversity. The display screen options include; engine speed, fuel level, hour meter, coolant temperature, hydraulic oil temperature, voltage. The default screen includes: engine speed, fuel level, hydraulic oil temperature and visual indicators to keep the operator informed of low water level (spray system), Eco-mode, drum selections, lights, water spray settings, traction control, regeneration, parking brake, and warning indicators.
Night Operation
The bright LCD display and LED console lights optimize control for day and night operation. Roading and working lights include front lights with turn signals, a single rear working light with turn signals and a warning beacon.
Foldable ROPS and Canopy
Powerful lift cylinders enables a single person to raise and lower without the use of tools. A fixed ROPS is also available. The foldable canopy is compatible with fixed or foldable ROPS.
ENGINE
| | |
| --- | --- |
| Gross Power | 48.8 hp |
| Engine Model | C2.2 |
WEIGHTS
| | |
| --- | --- |
| Operating Weight | 8157.0 lb |
| Maximum Weight at Front Drum | 3974.0 lb |
| Maximum Weight at Rear Drum | 4180.0 lb |
OPERATING SPECIFICATIONS
| | |
| --- | --- |
| Standard Compaction Width | 51.0 in |
| Curb Clearance | 20.0 in |
| Turning Radius Inside Drum Edge | 9.7 ft |
| Ground Clearance | 11.0 in |
| Static Linear Load | 80.0 lb/in |
| Travel Speed – Maximum | 8.0 mph |