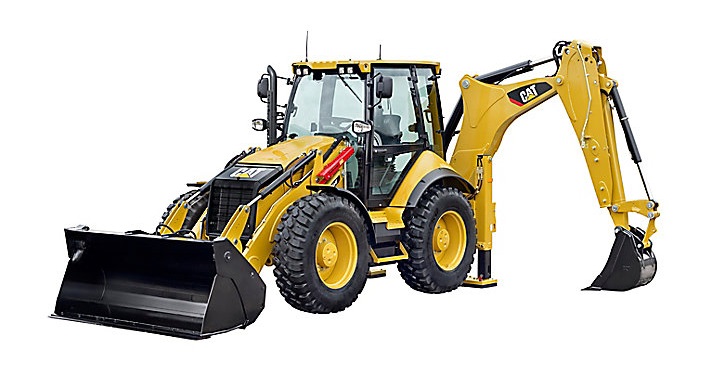 Product Overview – CAT 444F Backhoe Loader
Designed with performance in mind, the CAT444F Backhoe Loader has higher breakout forces, load over height and reach, making light work of applications such as truck loading or shoveling. Parallel Lift Loader arms offer self-leveling as standard, providing safe lifting of any palletized load. Versatility is enhanced with the choice of a General Purpose or Multi Purpose bucket, and visibility is further enhanced with a new, lower hood line design, providing a clear line of sight to the top of the bucket.
A spacious interior with modern styling accommodates the operator with comfort and ease of operation, to meet the demands of even the most demanding operator. Cab width makes turning from loader-facing to backhoe-facing position simple, with no obstruction. Comfort is further enhanced with the first-class Cat air suspension seat, reducing fatigue on the body during those long working days.
An easy opening single piece rear window enhances visibility of the surrounding area, and provides the operator with ventilation in warm conditions. The rear wiper maintains visibility in wet or dusty conditions by cleaning a large area of the rear screen.
Excavator-style joystick controls provide smooth operation of the backhoe and are ergonomically designed for low effort control, maximizing operator comfort. The location of the controls naturally positions the operator in the most comfortable position.
Other features such as remote stabilizer controls, large adjustable vents throughout the cab, clear gauges and tinted glass as standard contribute to an industry leading operating environment designed to reduce operator fatigue and increase productivity.
Passive DPF System
Service free diesel particulate filter requires no operator interaction, with built-in self-cleaning. That's just one less thing to think about.
Auto Align Steering
Switching between steering modes is now even simpler; with an auto align steering system which engages steer modes when the wheels are turned through the machine centerline.
Axles and Differential Lock
The heavy-duty Cat axles fitted to the 444F have been designed to be used in the most arduous of conditions and the rear axle Differential Lock ensures that traction is maintained in all types of ground conditions.
All Wheel Braking
When driving in two wheel drive, applying the brakes engages all wheel drive. Releasing the brakes returns the transmission to two wheel drive. This effective system works well in hazardous, slippery or steep surfaces. Braking modes are controlled by an easily accessible All Wheel Drive Switch, improving braking effectiveness and reducing tire wear.
High Residuals
Your 444F is protected by an undercoat of electro-deposited (E-Coat) primer, which completely seals each metallic component, offering premium protection from damage and corrosion. Combine this with the high solids polyurethane top coat, and your 444F will remain in prime condition longer, giving you outstanding resale value.
Engine Air Filter
A dry type axial air cleaner with an integral precleaner and automatic integrated dust ejection system extends the life of the air filter when working in dusty conditions, reducing service time and costs.
Extreme Conditions
Our proven engines are tried and tested in the harshest environments. Dependant on regional requirements, our machines can be equipped to handle extreme cold and extreme heat (up to 50° C).
Work Lights
The 444F has adjustable front and rear work lights. This allows the operator to direct the light wherever needed, providing maximum illumination to the work area whatever the ambient light conditions.
Improved Flotation
The 444F can operate in conditions that push the limits of unequal size tire machines. High flotation and lower ground pressure exerted by the tires allows the machine to work in very poor underfoot conditions, such as greenfield construction sites and agricultural applications such as farm maintenance. Areas which are off limits to other types of machine are accessible with a Cat equal size tire Backhoe Loader, increasing productivity and machine utilization.
Increased Loader Performance
More lift height, a large bucket and stronger breakout forces enable the 444F to perform high productivity loading duties, such as hopper charging, bulk material transfer, grading and loading.
Tire Options
The 444F is available with either 24″ or 28″ tires, in bias or radial ply variants. This allows the correct choice of tire to suit any application or budget.
All Wheel Steer (AWS)
An AWS system, which can be switched into 2WS, Circle Steer, or Crab Steer is fitted as standard. This provides an excellent turning circle and good maneuverability for working in confi ned working areas.
Adjustable Joystick Pods
The joysticks are pod-mounted, with two location positions. This allows the operator to remain comfortable in the seat, or move forward close to the rear of the machine for a clear view of the trench.
Pattern Selector
The pattern selector switch, located in the cab, lets you change from an excavator to a backhoe control pattern simply by pressing a button. This lets you select the pattern you are most comfortable with so you can be more productive.
Reduced Vibration
Caterpillar understands that backhoe loaders work in some of the harshest environments. By controlling normal machine vibrations caused by these harsh conditions, operators will feel less fatigued. The 444F has features, both standard and optional, that reduce the impact of vibration.
Air Suspension Seat
The key interface between the machine and the operator is the seat. The Cat air suspension seat provides the operator with a comfortable working platform to ensure high levels of productivity with the minimum of fatigue.
Cab Cooling
The 444F can be equipped with a powerful air conditioning system, helping you keep cool when working in warm temperatures. The ventilation system also provides plenty of demisting, defrosting and heating capability.
Joystick Control
The loader joystick is ergonomically designed and placed for operator comfort, and controls the multi-purpose bucket and auxiliary hydraulics when these options are fitted.
Ride Control
The Cat Ride Control system is an option designed to reduce machine pitching and bouncing, giving operators a smooth ride in all applications, including load and carry, roading, or simply moving around the job site. The system is controlled by a switch on the front console.
Return-To-Dig
Your 444F is equipped with a Return-ToDig system, as standard. This system reduces loading cycle times by bringing the loader bucket back to the dig position automatically when lowering the arms. By the time the loader arms have been lowered to ground level, the bucket is in the correct position ready for the next load.
Excavator-Style Backhoe
Whether you're close-up truck loading on a single road carriageway, or digging over obstacles such as walls, the excavator-style boom outperforms the rest. Combining versatility with powerful breakout forces, and the controllability of the load sensing, flow-sharing hydraulic system, the 444F is capable of producing high levels of productivity with the minimum of operator effort. The boom is a narrow design, ensuring maximum visibility to the work tool, and the choice of a 4.26 m or 4.87 m length backhoe is available to suit your needs.
Extendible Stick
The 444F is available with an optional extendible stick that increases dig depth and reach capability, enhancing the machines versatility and utilization. A sliding inner section design keeps the wear pads out of the dirt, extending adjustment and replacement intervals. When wear pad adjustment is necessary, the adjustment bolts are easy to access, taking minutes to adjust, without the need to disassemble the E-Stick. Auxiliary lines for operating work tools have been routed so that they are protected from damage when working in the narrowest of trenches.
Slider Frame and Swing Frame
Designed to make necessary maintenance easier to perform, the F Series cast slider frame has exterior lock clamps, with no backhoe disassembly needed when servicing. The Swing Frame/Boom Foot pins have replaceable bushings in the bores.
Powered Side Shift (Optional)
Provides a hydraulic service to enable the operator to easily position the backhoe across the full width of the H-frame without the need to place the bucket on the ground. Ideal for use in utility applications such as gas, electrical, telecoms, etc.
Hydraulic Performance
It's rare that you'll be working at full production 100% of the time, so why should the machine be working flat out, using more fuel, making more noise, and increasing wear? The 444F has a load-sensing, closed center hydraulic system, which closely matches power and flow to the demand needed by the implements. So whether you're in full trenching mode, or delicately digging around services, you are in control. In applications such as loading and carrying, speed is important, and system will match the flow needed to get the job done quickly and efficiently. As there is minimal demand on the system unless needed, there are less parasitic losses and more power available for traction – providing better loading and roading.
Flow Sharing Valves
The 444F also features flow-sharing hydraulic valves, ensuring the correct flow of oil reaches the implement cylinders, providing greater control and eliminating oil starvation when operating multiple functions.
Hardware
Reliable high performance hydraulic hoses are constructed from two strong steel braided layers and O-ring face seal fittings provide a robust system ensuring lasting durability and resistance to damage from pressure spikes and hydraulic pulsing.
Larger Torque Converter
A 2.4:1 ratio torque converter in the 444F delivers greater pushing power and greater acceleration when roading and loading, compared to its predecessor.
Auto-Shift Transmission
Automatic gear selection, with five forward and three reverse gears, minimizes operator effort with precision gear changing, engaging powerful drive in all applications. A hydraulic clutch pack modulation contributes to the operators' comfort by ensuring smooth gear changes, noticeably improving ride comfort over all types of terrain. The auto-shift transmission dispenses of the floor mounted shift lever, giving unrestricted access through the right hand door.
Lock-Up Torque Converter
If roading is an important part of your daily routine, the optional lock-up torque converter will enable you to maintain high speeds and reduce fuel consumption, saving you both time and money.
40 km/h Roading
The 444F is equipped with an auto-shift transmission capable of high speed travel up to 40 km/h. The forward/reverse lever on the steering column is placed for simple directional changes on the move, and the gear selection is automatically selected by the machine's engine control unit. Get to work faster, with the Cat Backhoe Loader.
OVERVIEW
Building on the success of the F Series, Cat Backhoe Loaders now incorporate the latest in clean engine emissions technology, which meets EU Stage IIIB emission standards.With a host of new features that deliver improved fuel economy, introduced with the new electronic engine, and unobstructed visibility thanks to an A-post mounted exhaust stack, this is no mere engine update.
ENGINE
| | |
| --- | --- |
| Power – Net | 69.9 kW |
| Engine Model | Cat C4.4 ACERT* |
| Displacement | 4.4 L |
| Net Torque Rise @ 1,400 rpm – 74.5 kW/101 hp | 46.0 % |
| Net Torque Rise @ 1,400 rpm – 82 kW/111 hp | 32.0 % |
| Note | *EU Stage IIIB Emission Standards. |
| Peak Torque Rise @ 1,400 rpm – 74.5 kW/101 hp | 450.0 N·m |
| Peak Torque Rise @ 1,400 rpm – 82 kW/111 hp | 450.0 N·m |
| Rated Power (Optional) @ 2,200 rpm: Gross – ISO 14396 | 82.0 kW |
| Rated Power (Optional) @ 2,200 rpm: Net – 80/1269/EEC | 77.5 kW |
| Rated Power (Optional) @ 2,200 rpm: Net – ISO 9249 | 77.5 kW |
| Rated Power (Standard) @ 2,200 rpm: Gross – ISO 14396 | 74.5 kW |
| Rated Power (Standard) @ 2,200 rpm: Net – 80/1269/EEC | 69.9 kW |
| Rated Power (Standard) @ 2,200 rpm: Net – ISO 9249 | 69.9 kW |
| Bore | 105.0 mm |
| Stroke | 127.0 mm |
Dimensions
| | |
| --- | --- |
| Overall length | 7574 mm |
| Overall width | 2322 mm |
| Height | 2897 mm |
| Wheelbase | 2235 mm |
| Front wheel tread gauge | 1826 mm |
| Rear wheel tread gauge | 1707 mm |
| Ground clearance (minimum) | 320 mm |
WEIGHTS
| | |
| --- | --- |
| Operating Weight – Nominal | 9606.0 kg |
| Operating Weight – Maximum | 11500.0 kg |
| Operating Weight (maximum) (ROPS capacity) | 11500.0 kg |
| Ride Control | 11.0 kg |
| Air Conditioning | 34.0 kg |
| All-Wheel Drive | N/A |
| MP Bucket (1.15 m3/1.50 yd3) – With Fold-over Forks | 927.0 kg |
| MP Bucket (1.15 m3/1.50 yd3) – Without Fold-over Forks | 767.0 kg |
| Loader, IT with QC | 365.0 kg |
| 4.3 m Extendible Stick (excludes ft. counterweight) | 199.0 kg |
| Operating Weight | 9606.0 kg |
| 4.9 m Extendible Stick (excludes ft. counterweight) | 354.0 kg |
| Counterweight – Base | 115.0 kg |
| Pin On: Minimum Counterweight Recommendations – Standard Stick: Loader Bucket – GP | 0.0 kg |
| Pin On: Minimum Counterweight Recommendations – Standard Stick: Loader Bucket – MP | 0.0 kg |
| Pin On: Minimum Counterweight Recommendations – Extendible Stick: Loader Bucket – GP | 0.0 kg |
| Pin On: Minimum Counterweight Recommendations – Extendible Stick: Loader Bucket – MP | 0.0 kg |
| Quick Coupler: Minimum Counterweight Recommendations – Standard Stick: Loader Bucket – GP | 115.0 kg |
| Quick Coupler: Minimum Counterweight Recommendations – Standard Stick: Loader Bucket – MP | 115.0 kg |
| Quick Coupler: Minimum Counterweight Recommendations – Extendible Stick: Loader Bucket – GP | 115.0 kg |
| Quick Coupler: Minimum Counterweight Recommendations – Extendible Stick: Loader Bucket – MP | 115.0 kg |