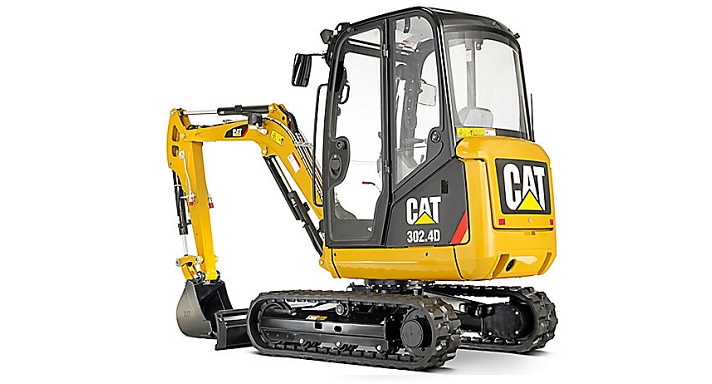 Overview – CAT 302.4D Mini Excavator
Compact in size and with a transport weight under 2300 kg (5,070 lb), the CAT 302.4D Mini Excavator can be transported easily using a conventional trailer and pick up truck or transit van. The sturdy hoisting eyelets on the cab roof enable the easy and rapid relocation of the machine between sites.
Automatic Swing Lock
Safe transportation of the machine is aided by the Cat automatic swing lock which locks the machines upper body in place when the control console is raised or the engine is stopped.
Work Tools
A variety of purpose designed work tools are available, including buckets, quick couplers, hammer and auger. All Cat tools are built to last and matched to your machine to deliver excellent value and optimize performance.
Auxiliary Hydraulics As Standard Fit
Machine is 'ready to work.' Hammer and two way lines complete with quick disconnect fittings are standard. Connections are located close to the tool to reduce hose lengths and any potential damage. Additional line options are available to further increase machine versatility. Stick and bucket cylinder hoses are protected by routing them through the boom.
Auxiliary
Flow Contol
Machines configured with proportional auxiliary hydraulics, include the ability to adjust the flow for even greater tool control. Especially useful with tools such as angling ditching buckets.
Productive Comfort
The Cat 302.4D cab is amongst the largest in the industry. The flat cab floor optimizes visibility and increases operator leg room. The ergonomic control layout provides a comfortable, highly productive workspace. The large two-part front windscreen allows the driver to slide both lower and upper panes beneath the cab roof, so protecting them from damage when the front screen is wide open. This also negates the need to remove or store the bottom windscreen pane away separately.
100% Pilot Controls
All hydraulic functions are fully pilot operated, delivering effortless operation, reducing maintenance and lowering owner operating costs. 'As new' machine controllability is maintenance free without the need for adjustment of linkages or cables. Auxiliary and boom swing services are controlled by proportional switches mounted on the joysticks.
2 Way Canopy Access
Canopy builds allow the operator to enter and exit the operator station from both sides of the machine, helping to increase productivity and making working around site much easier.
OVERVIEW
The Cat® 302.4D provides power and efficiency so that you can get the best out of your job without ever feeling the strain. You can be assured of faster, more powerful digging with a smoother response.
ENGINE
| | |
| --- | --- |
| Engine Model | Yanmar 3TNV76 |
| Net Power | 13.2 kW |
| Displacement | 1116.0 cm3 |
| Gross Power (ISO 14396) | 17.9 kW |
| Rated Net Power @ 2,200 rpm (ISO 9249) | 13.2 kW |
WEIGHTS
| | |
| --- | --- |
| Operating Weight | 2320.0 kg |
| Operating Weight with Cab | 2320.0 kg |
| Operating Weight with Canopy | 2210.0 kg |
| Transport Weight with Cab | 2175.0 kg |
| Transport Weight with Canopy | 2065.0 kg |