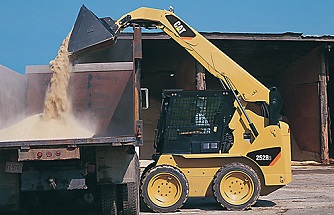 Features
The CAT 252 has a 3034 naturally aspirated, four-cylinder engine producing 59hp. It is installed with a vertical lift path and hydraulic pump that delivers 75.8 litres per minute at a system pressure of 3,300 pounds per square inch.
Unmatched Versatility
For optimum utilization, the new C-Series models can handle a wide range of Cat work tools via the standard Integrated-Tool-Carrier coupler, and an optional hydraulic coupler allows the operator to change non-powered work tools from the comfort and safety of the cab. For powered tools, a selectable, continuous-flow auxiliary hydraulic system ensures productive performance. The auxiliary system provides an intermittent flow of 80 L/min (21 gpm) and a continuous flow of 60 L/min (16 gpm) at maximum pressure of 250 bar (3,675 psi).
The powerful implement hydraulic system for C-Series Telehandlers features a new torque-regulated/ load-sensing, variable-displacement axial-piston pump and a full-flow sharing valve that permits the operator to engage three hydraulic functions simultaneously. For enhanced control, the system allows developing full hydraulic power at low engine speeds, facilitating the precise placement of heavy loads. The new hydraulic system provides enhanced value for the customer through increased production potential, fuel savings, longer component life and reduced sound levels.
Cat C-Series models are noted for their spacious, comfortable cabs that feature intuitive controls, including a single, low-effort, electro-hydraulic joystick that provides proportional and simultaneous boom functions and auxiliary functions, as well as directional and range controls for the new 4F/3R transmission that provides travel speeds to 30 km/h (18.6 mph).
Overview
The Cat Skid Steer Loader, with many work tool options, is ideal for construction, landscaping, agriculture and other applications. It delivers traditional Cat reliability and durability with excellent productivity.
Product Information
HEIGHT: 2063mm (6ft 9 1/4in)
WIDTH: 1829mm (6ft)
OP. WEIGHT: 3565KG
LIFT CAPACITY: 1202KG